Vine With Me
Vine With Me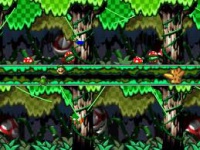 Luigi, and Yoshi playing Vine With Me.
Vine With Me is a Duel Minigame that appears in Mario Party 3. The objective is to swing among the vines as quick as you can. The vines vary in size, so you must time your jump between each vine, otherwise you'll fall and lose time. The first person to reach the goal will win the minigame.
[edit]
Controls
A Button - Jump to the Vine
Related Threads
vines
- last post by
@ Apr 28, 2007
make vines swing?
- last post by
@ Jan 18, 2010
7-1 How do you climb onto the flower/vine that extends?
- last post @ Jun 25, 2008