Twist 'n' Out
Twist 'n' Out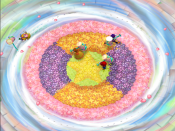 Twist 'n' Out as shown in Mario Party 5.
Twist 'n' Out is a Battle Minigame appearing in Mario Party 5. Players are in the eye of the Tornado. The goal is to use the hammers to knock your opponents outside of the eye and into the Tornado. As time passes, the eye will get smaller and the winds of the Tornado will close in. The last player standing will win the minigame.
[edit]
Controls
Control Stick - Move
A - Swing Hammer
Related Threads
Twisted Metal
- last post by
@ Feb 18, 2012
Seth MacFarlane's Twisted Land of Oz
- last post by
@ Sep 8, 2007
Last edited by
canderson
on 11 July 2013 at 20:55
This page has been accessed 118 times.