Torpedo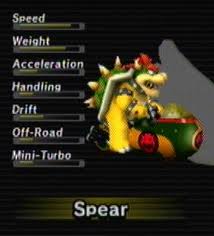 The Torpedo(or Spear) is a kart in Mario Kart Wii. It is considered to be the fastest bike in the game.
[edit]
How to Unlock
To unlock it, you need to do one of the following:
Unlock 12 Expert Staff Ghosts in Time Trials.
Win 200 WFC races.
Play 3,600 games.
The Torpedo is the fastest bike in Mario Kart Wii, and it is also very heavy, but it has poor acceleration, off road, drift, and mini turbo, making it useful for time trails, but a poor bike for a Grand Prix, as when you are hit, it cannot accelerate well, causing you to fall behind in the race.