Tick Tock Hop
Tick Tock Hop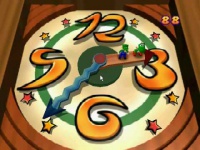 Luigi, and Yoshi playing Tick Tock Hop.
Tick Tock Hop is a Duel Minigame featured in Mario Party 3. Players are standing on the hour hand of a clock and must jump over the minute hand that is rotating around the clock. As players complete successful jumps, the minigame will get more difficult in various ways such as, the minute hand moving faster, the hour hand that players are standing on starts to move, and either hand rotating in the opposite direction. The last player standing will win the minigame. A draw will occur if both players are hit or if players complete 99 hops.
[edit]
Controls
Related Threads
Tick Tock Clock Stomp on Thwomp
- last post by
@ Jan 25, 2009
100 coins in Tick Tock World
- last post by
@ Jul 25, 2006
Tick Tock Clock
- last post by
@ Mar 9, 2005
tick- tock land???
- last post by
@ Mar 21, 2003
Last edited by
canderson
on 29 November 2011 at 14:26
This page has been accessed 225 times.