The Thousand-Year Door
The Thousand-Year Door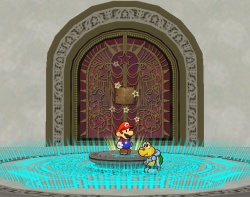 The Thousand-Year Door is the massive door found below Rogueport in Paper Mario: The Thousand-Year Door. It is said that there is treasure to be found behind it after generations of locals creating myths on what is behind the door. It would turn out to be the entrance to the Palace of Shadow and the only person to know its true history is Grifty.
Alongside the Crystal Stars and the Palace of Shadow, the Thousand-Year Door was created to conceal a horrifying demon that had destroyed a town that stood within Rogueport's boundaries. The Four Heroes' has created a way that the Crystal Stars could only open the door unless a thousand years had past and the seal would eventually weaken. When Mario had placed all seven of the Crystal Stars before the door, the dark power would make the door and walls surrounding it, crack and a vortex would spew out and the Palace would open. It would be revealed that the so-called "treasure" was the Shadow Queen herself, but the ending would reveal a treasure of sorts: a near-useless Dried Shroom, which may of been a stronger mushroom in the past that dried out over time.
Because of the legends surrounding the door, very few people dared to touch the door.
Related Threads
Paper Mario Story The Thousand Year Door[ I ]
- last post by
@ Sep 29, 2008
Paper Mario: The Thousand Year Door Forum Index
- last post by
@ Jun 4, 2008
"Paper Mario: The Thousand-Year Door" Remake for the 3DS: Yay or Nay?
- last post @ May 10, 2013
Yoshi Kid from Paper Mario The Thousand Year Door should be the host in Mario Party 9 or later
- last post by
@ Nov 30, 2010
Paper Mario The Thousand Year Door Battle Tips
- last post by
@ May 21, 2010