Tail Bob-omb
Tail Bob-ombs are a new type of Bob-omb just introduced in Super Mario 3D Land. They will chase after Mario just like normal Bob-ombs do in the game but they can also use their tail to attack him. If Mario knocks one of it's feet it will blink red and explode.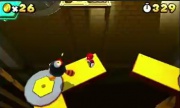 Related Threads
If you were a bob-omb what would you do???
- last post by
@ Apr 15, 2009
Boss plus level DK-5+ (Bob-ombs and conveyors) - help
- last post @ Jul 11, 2012
the bob-omb brothers *chapter7- may be a spoiler for some*
- last post by
@ Oct 20, 2004
How to kill a King Bob-omb.
- last post by
@ Aug 8, 2011
How to kill a Bob-Omb.
- last post by
@ Oct 2, 2011