Super Mario 3D Land
Super Mario 3D Land

North American Boxart
Developer
Nintendo
Publisher
Nintendo
Platform
Nintendo 3DS
Release Date(s)
Japan: November 3, 2011
North America: November 13, 2011
Europe: November 18, 2011
Australia:: November 24, 2011
Genre
Platformer
Super Mario 3D Land is a game based on side-scrolling Mario games but is a 3D platformer, similar to Super Mario 64. This is the first time that a Mario 3D platformer was built from the ground up on a handheld system. Super Mario 3D Land is was developed by the same team that worked on the Super Mario Galaxy games. As the latest installment in the main Mario series, it follows Super Mario Galaxy 2 in the series.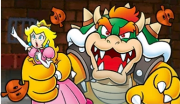 A Tanooki-tailed tree is seen outside of Princess Peach's Castle, with a Tanooki leaves on its branches, but one night, a huge storm hits the Mushroom Kingdom and blows all of the Tanooki leaves off of the tree. The next morning, Princess Peach goes outside to check on the tree, only to be kidnapped by Bowser once again while she inspected the tree.
Mario and three Toads (Red, Yellow, and Blue) are seen looking for the princess, only to find out that she is missing and all of the Tanooki leaves are gone as well. Yellow Toad notices a letter hovering near the tree and the four of them go to it. Mario opens the letter and finds a picture of Bowser holding Princess Peach with Tanooki leaves blowing in the background. The letter would shock the Toads and Mario, before the four of them run off to save Princess Peach. Mario (The player) must defeat enemies in different world, and battle Bowser to save Peach. After that, the secret worlds are unlocked.
[edit]
Gameplay
Super Mario 3D Land returns to the free-roaming roots first seen in Super Mario 64 that were repeated in many of the mainstream Mario Series games, such as Super Mario Galaxy 2. It is a combination of Super Mario Galaxy and Super Mario 64. It also marks the first time "little Mario" has been seen in a 3D Free-roamer, as well as Hatless Mario from New Super Mario Bros. Wii. Each level has a time limit and feature the flagpoles at the end of the levels like the original Super Mario Bros.. After clearing a stage, you unlock the Time Attack for that stage. Using the Spotpass, players are able to see how others did when completing the stage and compete with their time.
Gyroscopic control are used when viewing through binoculars (Found in some levels throughout the game). When you look through the binoculars, simply tilt the system and the view will move to the desired angle.
The Tanooki Suit returned for the first time since Super Mario Bros. 3. This is represented by a raccoon tail hanging off of the word Mario. Various other power-ups return in the game, such as Fire Flower and Star, as well as others that are currently unannounced.
For the first time in the Mario Universe, Mario has gained the ability to roll, which was first seen at E3 2011. It was used to defeat a type of enemy known as the Cardboard Goomba. He is also now able to flutter while wearing the Tanooki Suit without the help of Yoshi, who does not appeared in the game.
[edit]
Controls
Circle Pad: Move.
A: Choose level.
A/B: Jump, Wall Jump.
Hold A/R: Flutter Jump (Tanooki Mario).
R: Crouch, enter a Warp Pipe, enter a cannon.
(L/R)+ Direction: Crawl
Circle Pad+R: Somersault.
Circle Pad+R+(A/B): Long Jump.
(A/B)+R: Ground Pound
R+(A/B): Backwards Somersault.
X/Y: Shoot Fireballs (Fire Mario), attack with tail (Tanooki Mario), run.
Select: Pause menu.
[edit]
Characters
[edit]
Playable
[edit]
Supporting Characters
[edit]
Bosses
[edit]
Enemies
[edit]
New Enemies
[edit]
Old Enemies
[edit]
Mario's Transformations
[edit]
Luigi's Transformations
[edit]
Material
Rectangular Jump Block Platform
Rotating multicolor blocks (red, yellow, and cyan)
Purple teleporting blocks
Yellow and red block with a Coin Block inside, where Mario can enter.
Blue blocks with arrows on their sides, similar to Arrow Lifts
Yellow step block that changes camera angle
Rectangular Question Blocks
Green reproducing panels that resemble Kurunbas and Flipswitches
Unnamed cutout-like Goombas that slightly resemble those of Handfakes
Green and blue Clocks
Green platforms used for traveling down rails with arrows indicating which direction
Orange and yellow jump objects.
P-Wing-like block that can help the player, similar to the Super Guide feature
Green & Blue Timers
Red and blue platforms that strongly resemble Flip-Swap Platforms, but are instead activated by jumping
Music notes, activated by a P-Switch that play the Super Mario World theme.
Yellow rings that give five coins.
Giant red Exclamation Mark Blocks
Blocks with the Bowser logo on it that release Goombas.
Rainbow Jump Blocks
Flying Roulette Blocks[
[edit]
Power-Ups
[edit]
World and Levels
Super Mario 3D Land features eight worlds. Some of the worlds have five levels, while others could have more than five levels.
After completing the eight worlds in Super Mario 3D Land, the player unlocks eight special world levels. Most levels are remakes from previous worlds with new challenges.
Toad Houses- Similar that in Super Mario Bros. 3, though Streetpass friends can send gifts to the Toad House.
Mystery Boxes- Mario is able to go inside and they contain various tasks like defeating all enemies. For completing tasks, Mario can receive Coins, 1-Up Mushrooms, or a Star Medal. Streetpass friends can send players Mystery Boxes.
[edit]
Nintendo eShop Description
Platforming with serious depth! With the 3D visuals of Super Mario 3D Land, players can see exactly where floating ? Blocks and flying Paragoombas are, so that they can jump and stomp with the precision of the pros. Expert gamers will appreciate the way 3D graphics reveal the true challenge of the levels, so that they can focus on nailing the perfect jump or shaving precious seconds off their speed runs, while new players will find that 3D makes platforming simple to grasp and satisfying to master.
Try on Mario's Tanooki Suit, and put some spring in your step! While longtime gamers will delight in using Tanooki Mario's tail-spin attack to sweep enemies off their feet and fluttering through the air to land super-long jumps, a new generation will learn what makes this classic suit a fan favorite. But even seasoned players will be in for a surprise--Mario's enemies may be sporting the familiar Tanooki tail too!
Mario at his very best! Mario returns to his roots in his first 3D platforming adventure designed exclusively for a handheld system. From the frantic race-against-the-clock dash through the Mushroom Kingdom to that final leap to grab the top of the flagpole, this eye-popping addition to the Super Mario series combines everything that makes Mario great from one generation to the next.
Related Threads
Super Mario 3D Land Will Take A Retro Approach To The Series
- last post by
@ Nov 6, 2011
Super Mario 3D now Super Mario 3D Land+Out in November
- last post by
Thrawn
@ Jul 29, 2011
No Instruction Manuel for Super Mario 3D Land
- last post by
Thrawn
@ Nov 15, 2011
3D Land Sequel; Good Or Bad?
- last post by
@ Jul 10, 2013
Super Mario 3D Land gets high rating from Famistu
- last post by
Thrawn
@ Oct 29, 2011