Stardust Battle
Stardust Battle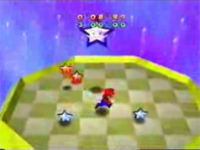 Mario playing Stardust Battle.

Stardust Battle is a Rare Minigame that appears in Mario Party 3. This is the final minigame played in Story Mode and it's unlocked in Minigame Mode once you finish Story Mode.
The player has to defeat the Millenium Stars by hitting him with the falling stars once they have cooled off. If you touch the star before it cools off, you will lose the minigame. The battle field will change for every 1 hit(Easy Mode), 2 hits(Normal Mode), or 3 hits(Hard Mode) the Millenium Star has taken. The battle field you start on is a Normal field, the second is a field which slows you down making it difficult to move, the last is an ice field which makes it very slippery. Each time the field changes, the stars will fall at a quicker pace.
The amount of times you have to hit him depends on the difficulty. On Easy Mode, you're required to hit him 3 times. On Normal, you're required 6 hits. On Hard Mode, 9 hits are required to defeat him.
[edit]
Controls
Control Stick - Move
A - Jump
B - Pick Up Falling Star / Throw Falling Star
Related Threads
I need to know something about the Stardust Battle
- last post by
@ Oct 9, 2008
Stardust (2007)
- last post by
@ May 29, 2009
Last edited by
canderson
on 25 February 2012 at 13:07
This page has been accessed 271 times.