Star Menu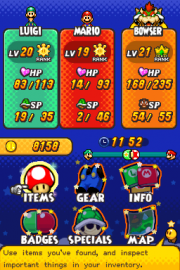 The Star Menu is the menu that would appear in Mario & Luigi: Bowser's Inside Story. This menu would have six options: Items, Gear, Info, Badges, Specials and the Map. The options would be outlined by stars. In this menu, players can also view their play time, and when available, the Badge Meter. It can be accessed by pressing the Start button and Starlow would explain how it works.
It would make a return in Mario & Luigi: Dream Team and serve the same function, though it would now be called the "menu".
Related Threads
star coins
- last post by
@ Aug 3, 2011
Peach's Star
- last post by
@ Nov 20, 2009
"Star" Game Clear
- last post by
@ Aug 31, 2006
Last edited by
Gotenks
on 22 August 2013 at 23:07
This page has been accessed 144 times.