Snow Brawl
Snow Brawl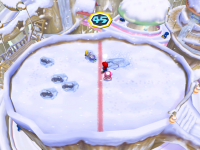 Snow Brawl as shown in Mario Party 6.
Snow Brawl is a 1 vs 3 minigame that appears in Mario Party 6. The solo player, joined by four monkeys(in the Daytime version) or four Shy Guys(in the Nighttime version), faces off in a snowball fight against the team players. The solo player has to hit all team players, while the team players have to hit only the solo player, and not the monkeys or Shy Guys. It's best for the solo player to use the monkeys or Shy Guys as defensive barriers. The team who strikes down their opponent's side first, will win the minigame.
[edit]
Controls
Control Stick - Move
A - Throw a snowball.
B - Make a snowball.
Last edited by
canderson
on 6 March 2013 at 21:14
This page has been accessed 223 times.