Sky Survivor
Sky Survivor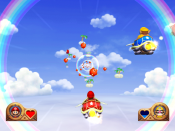 Sky Survivor as shown in Mario Party 5.
Sky Survivor is a Duel Minigame appearing in Mario Party 5. Players are in their flying vehicles and must fly through the course while avoiding the obstacles. The main obstacles are the red spiny balls and the further the players get, the more that those obstacles would appear. The player who gets hit 5 times will cause all of their vehicle's health to deplete and will lose the minigame and the other player will win.
[edit]
Controls
Related Threads
General Discussion [... and there were no survivors.]
- last post by
@ Mar 3, 2006
Last edited by
canderson
on 18 July 2013 at 14:15
This page has been accessed 69 times.