Shy Guy Showdown
Shy Guy Showdown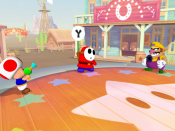 Shy Guy Showdown as shown in Mario Party 5.
Shy Guy Showdown is a Duel Minigame appearing in Mario Party 5. Players must press the button on the sign that the Shy Guy is holding. The first person to correctly press the button will shoot an ink ball towards their opponent and winning the minigame.
Occasionally, the Shy Guy will raise a fake sign, in which players should not pressing anything, otherwise the player will lose. The player will also lose if they press the incorrect button or press a button too early.
[edit]
Controls
A, B, X, Y, L, or R - Press to shoot
Related Threads
WALUIGI AND SHY GUY ARE THE BEST CHARACTERS!!!!!!!!
- last post by
@ Sep 22, 2002
I need help winning SHY GUY?????
- last post by
@ Aug 18, 2002
Shy Guy's Toybox
- last post by
@ Nov 28, 2003
Shy Guy Mariachi Battle (Gameplay Footage)
- last post by
@ Oct 28, 2012
shy guy?
- last post by
@ Sep 19, 2009
Last edited by
canderson
on 18 July 2013 at 12:52
This page has been accessed 140 times.