Shine Sprite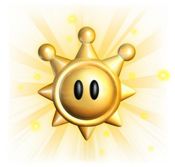 A Shine Sprite is the main light source in the game, Super Mario Sunshine. They are normally found flooded around the Shine Gate, but Shadow Mario used a magic paintbrush built by Professor E. Gadd to spread them out around Isle Delfino and the adjacent areas. It seems as if they have eyes, which means they can also act as guardians of the island.
[edit]
History
Shine Sprites can appear all over the island of Isle Delfino. It is not known exactly how they got there, or why they remained, but they have been there for quite a while, and are the island's source of light (note that there is a sun in Super Mario Sunshine that serves no purpose except access to one world). When these Shine Sprites are taken away from the Shine Gate by Bowser Jr., the residents of Isle Delfino go insane, wondering who did this and why they did. Throughout the entire game, the residents believe that Mario is the perpetrator, and they force him to clean up the entire town in order to bring back the Shine Sprites.
When they are collected in the game, Isle Delfino gets brighter, and the population grows quite a bit. The spirits of the residents also increase, which makes the game's tasks a little bit easier.
[edit]
Locations
Before the Shine Sprites were spread out, they could be found gathered near the Shine Gate. However, they spread out to the areas adjacent to Isle Delfino when they were scared away. It seems that these Shine Sprites also travel in groups, which is seen during the episodes in the following areas:
There are many Shine Sprites gathered in the aforementioned areas, but some residents of Isle Delfino are holding a few of them, and will trade them to Mario if he assists them in work.
There is also one Shine Sprite at the Shine Gate itself, and it will come out when the Shine Gate is cleared of the "goop" that Bowser Jr. drew on it using his magic paintbrush. It will rest on top of the Shine Gate, where Mario must climb to in order to grab the Shine Sprite.
Related Threads
Help with Shine Sprites
- last post by
@ Jul 9, 2005
teleportation tube on top of large shine sprite troulbe
- last post @ Oct 23, 2010
??? shine sprite
- last post by
@ Aug 25, 2006
*Spoiler* help with shine sprite *spoiler*
- last post by
@ Feb 14, 2005
shine sprite discussion**possible spoilers**
- last post by
@ Feb 1, 2005