Penguin Iceberg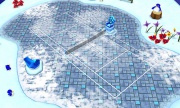 Penguin Iceberg is a court available in Mario Tennis Open. It is a tennis court that take place on an iceberg while out in the middle of the arctic sea. There is a frosty tile design underneath the ice. Penguins can be seen on the sidelines for this tennis court, and the snow-covered trees from the 3rd World of New Super Mario Bros. Wii will appear also. Igloos and a snowman dressed like Mario will be found around the court and if the player looks up to the sky, they will see the northern lights.
[edit]
Court Stats:
Ball Speed: Normal
Bounce: Strong
Last edited by
Gotenks
on 15 June 2012 at 21:11
This page has been accessed 305 times.