Mystery Box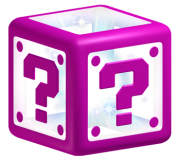 Mystery Boxes are boxes that first appear in Super Mario 3D Land. They can be found in every world of the game and used for many different tasks, such as defeating all enemies in the box in ten seconds. If Mario completes the tasks, he will receive items like Coins, 1-Up Mushrooms or even a Star Medal.
Friends will also be able to send their own Mystery Boxes via StreetPass for them to try out.
Related Threads
Mystery Boxes
- last post by
@ Nov 15, 2011
Two mysteries that i found.
- last post by
@ Jan 25, 2008
The mysterious underwater box
- last post by
@ Jul 9, 2009
black block mystery help
- last post by
@ Apr 30, 2010
Last edited by
Gotenks
on 8 November 2011 at 20:47
This page has been accessed 532 times.