Mushroom Valley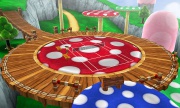 Mushroom Valley is a tennis court that appears in Mario Tennis Open that is played on a giant mushroom. It has a bridge that will support the course while the bounce doesn't seem to be dramatic as it would seem. The scoreboard would have a blue Mushroom and have Green and Red Koopa Troops around the court. This would be the default court for the Mushroom Cup.
Related Threads
GHOST VALLEY 1
- last post by
@ Jun 28, 2004
Last edited by
Gotenks
on 15 June 2012 at 21:15
This page has been accessed 335 times.