Mario Party Points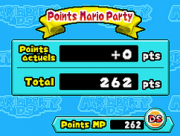 Mario Party Points are points that would be obtained in Mario Party DS. The player could collect these points through several ways like traveling spaces. They can be used to achieve badges and Character Figures.
[edit]
List of Bonuses
Mini-Game Wins: 20 each
Turns Played: Number of turns
Bonus Star Bounty: 30 per Bonus Star
Star Stash: 10 per Power Star
Coin Cache: Number of Coins
Puzzle Games: Varies
COM Difficulty Bonus: Up to 50% of the sub-total
They would make a return in Mario Party 9 as they can be earned through playing minigames, boards or completing the Solo Mode of the game. Players can purchase cars and constellations, or DK's Jungle Ruins at the Museum..
Related Threads
Mario Party Points
- last post by
@ Jan 21, 2008
Mario Fantasy Party
- last post by
@ Jun 15, 2009
Mario Party Thoughts
- last post @ Mar 11, 2008
MARIO PARTY 6 QUIZ-A-THON!
- last post by
@ Oct 23, 2006
Mario Party 7 Hurt and Heal
- last post by
@ Aug 28, 2007
Last edited by
Gotenks
on 24 April 2012 at 17:40
This page has been accessed 980 times.