Mario Kart 7
Mario Kart 7



The North American Box Art.

Developer
Nintendo, Retro Studios
Publisher
Nintendo
Platform
Nintendo 3DS
Release Date(s)
North America: December 4, 2011
Japan: December 1, 2011
Europe: December 2, 2011
Australia: December 3, 2011
Genre
Racing
Rating
ESRB: Everyone
PEGI: Three years and older
CERO: All ages
Mario Kart 7 is a Mario Kart video game released for the Nintendo 3DS. It is the ninth game in the Mario Kart Series, though it's the seventh game in the main Mario Kart Series. It was released in December 2011(1st in Japan, 2nd in Europe, and 4th in North America). Players will be able to share Ghost Data and play online with other players around the world. Nintendo has also confirmed there will be many "new elements" introduced to the Mario Kart Series in this game.
[edit]
Gameplay
[edit]
Features
Mario Kart 7, will see the return of Coins, which will be the first time they have been seen in the series since Mario Kart: Super Circuit. Players will have accessed to sixteen tracks seen in past Mario Kart titles as well as sixteen brand new tracks.
Players can customize their own karts by selecting the body of the kart, the wheels and other additional accessories like the glider, which is a new addition to the Mario Kart Series. Racers will also be able to race underwater now by the use of the propeller on the back of the kart. Some karts, wheel types and Gliders will have to be unlocked in ordered to be used. Mario Kart 7 will see races go back to only eight racers instead of twelve racers, as seen in Mario Kart Wii. The Mario Kart Channel from Mario Kart Wii will return in Mario Kart 7 and work in the same way. The game will be compatible with SpotPass and StreetPass.
Vehicle's will also behave differently on different courses. Each element that is assembled to a vehicle, will have a different effect on the vehicle, which could cause them to have a great advantage on certain courses. If a course has a concrete road or rough terrain, a certain wheel type may work better on that terrain. Gliders can provide speed and longer or less time in the air and be controlled by the control pad. Driving underwater will as well affect the handling, speed and drift of the kart compared to when driving on land. When in first place, there will be a first-person view option that allows the player to watch the race from the characters perspective. The player will be able to see the steering wheel in front of the character.
It is not known if Motorbikes will be returning in this game or not. There has been no information or gameplay with motorbikes in it. Tricks however, are set to return from Mario Kart Wii in Mario Kart 7.
[edit]
Controls
Circle Pad: Steer
A/Y Button: Accelerate
X/L Button: Use Item
R Button: Hop/Drift/Perform tricks in midair.
Up Control Pad: Toggle first person view
B Button: Brake/Reverse
[edit]
Grand Prix
Grand Prix returns in Mario Kart 7. It is for a single player to compete against seven other computer opponents in order to obtain the trophies for each of the eight cups. The player can choose from three engine classes, 50cc, 100cc, and 150cc. The higher the engine class, the harder the races will become. The player can only unlock cups by completing the previous cup, the player can also unlock new kart parts(by collecting coins) or new characters. Once all engine classes have been completed, the player will unlock the Mirror Class.
[edit]
Time Trial
Time Trial allows a player to complete all the laps of a course in the fastest time possible. Players can save the records to the game and a ghost is created of that character and vehicle. Players can exchange their Ghost over Nintendo's Wi-Fi Connection, compare records and compete with their ghosts. Players can race seven different ghosts at the same time to create an eight player race.
In VS Mode, players are able to customize their races and change other settings like the computer difficulty, the requirements to win the race and what cars the computers used. It isn't available in Single Player mode. In Download Play, players who don't have the game will use Shy Guy with the standard kart as they cannot customize their kart.
[edit]
Battle
Battle Mode will allow the player to choose from two types of battles. Six battle courses are new, while the other six battle courses are from previous Mario Kart installments.
[edit]
Balloon Battle
In Balloon Battle, each racer starts off with three balloons. They will compete against other opponent's to gain points in the given time limit. They can gain points by using items on other opponents. If the player is hit, then they will lose a point and will take a moment to respawn before their three balloons appear.
[edit]
Coin Battle
Coin Battle will require the racers to collect coins that are spread across the battle course. The racer with the most Coins at the end, will win the battle. Racers can hit other opponents with items and take the Coins that they have dropped.
[edit]
Streetpass
Players will be able to use Streetpass in Mario Kart 7. Players can create ghost data in Mario Kart 7 and share ghost data with other players. Using the Mario Kart Channel, the player will able to see all of the incoming information from the Streetpass and Spotpass. It will show how many times the player has encountered with others by using the Streetpass and shows how many times the player has won and lost.
Players will also be able to race against other players Mii characters in Grand Prix. Other players Mii characters will be using their own kart combination that they use on their own game. They will also play with their own play styles that they use on their game(Ex. Someone who drifts a lot on their game, will drift on your game). Players can win a certain part off the Mii by winning the race.
[edit]
Spotpass
When Spotpass is enabled, a players Nintendo 3DS can receive up to 20 Ghost Datas a day. After completing a track on Time Trials, it gets automatically uploaded to the Nintendo servers and ghosts with similar levels get downloaded to players. So depending on how good the player is, you will receive similar ghost data. Instead of racing one on one with the other ghost, there will be eight different ghost datas racing in the same race.
[edit]
Online Multiplayer
Mario Kart 7's online play will support up to 8 players at a time with 60 fps and play against other players worldwide. New to the series is the Community feature. The Community feature allows a player to invite up to eight other players to race against one another. To allow someone into their Community, they will need to hand out the fourteen digit code given to other players.
[edit]
Characters
[edit]
Starting Characters
[edit]
Unlockable Characters
[edit]
Unlocking Criteria
| Character | Unlocked By |
| --- | --- |
| Daisy | Win 150cc Mushroom Cup |
| Wario | Win 150cc Flower Cup |
| Rosalina | Win 150cc Star Cup |
| Metal Mario | Win 150cc Special Cup |
| Shy Guy | Win 150cc Shell Cup |
| Honey Queen | Win 150cc Banana Cup |
| Wiggler | Win 150cc Leaf Cup |
| Lakitu | Win 150cc Lightning Cup |
| Mii | Win all cups on any cc. |
[edit]
Character Bonuses
| Character | Speed | Acceleration | Weight | Handling | Off-road |
| --- | --- | --- | --- | --- | --- |
| Toad, Koopa Troopa, Lakitu, Shy Guy | 3 | 4 | 2.25 | 3 | 4 |
| Peach, Daisy, Yoshi | 3.25 | 3.5 | 2.75 | 3 | 3.75 |
| Mario, Luigi, Mii | 3.5 | 3 | 3.25 | 2.75 | 3.75 |
| Donkey Kong, Rosalina, Wiggler | 3.75 | 2.5 | 3.75 | 2.5 | 3.75 |
| Bowser, Wario, Metal Mario, Honey Queen | 4 | 2 | 4.25 | 2.5 | 3.5 |
[edit]
Other Characters
These characters have been seen either in the background of tracks or as obstacles on tracks:
Lakitu (Green Shell)
Goats
Walking vases
Walking Trees
Mario Kart 7 will feature three new items: the Fire Flower, Super Leaf and Lucky 7. Many of the items from past Mario titles make a return to the game though items from Mario Kart Wii, appear to not return in the game. Players can collect items by driving through an Item Box, which are found all over the track. When the player has touched an Item Box, the Item Roulette will choose what item the player gets.
[edit]
New Items
Mario Kart 7 will feature sixteen new courses and sixteen classic tracks from past Mario Kart titles.
[edit]
New Courses
[edit]
Retro Courses
[edit]
Shell Cup
[edit]
Banana Cup
[edit]
Leaf Cup
[edit]
Lightning Cup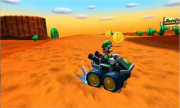 [edit]
Battle Courses
[edit]
Kart Customization
Customizing karts is a new feature to the Mario Kaert series. It allows the player to personalize their vehicles before using them in a race. The player is able to select the body, the wheels and the glider to build their kart. For the player to unlock more parts, they will need to collect as many coins from each race in the Grand Prix mode though the player can only have ten coins per race. Depending on each part, the stats will vary and karts will work better with certain parts. The result of this can result in:
Speedy: Great Speed, Moderate Weight, Humble Acceleration, and Poor Handling and Off-Road.
Robust: Low Speed and Off-Road, Great Acceleration and Handling, and Very Low Weight.
Heavyweight: Great Speed, Off-Road and Weight, Very Poor Acceleration and Handling.
Lightweight: Mild Speed, Low Weight, Good Off-Road and Handling, and Great Acceleration.
[edit]
Stat Bonuses
Certain parts affect the kart's stats differently. This is a list of the stat boosts that are applied.
Kart Bodies
Body
Speed
Acceleration
Weight
Handling
Off-Road
Standard Kart
0
0
0
0
0
B Dasher
+0.5
-0.5
0
+0.25
-0.25
Barrel Train
+0.25
0
+0.25
-0.5
0
Blue Seven
+0.5
-0.5
+0.25
-0.25
0
Bolt Buggy
+0.25
-0.5
+0.25
-0.25
+0.25
Bumble V
0
+0.5
-0.25
-0.5
+0.25
Cact-X
-0.25
-0.25
0
+0.25
+0.25
Cloud 9
-0.5
+0.25
-0.25
+0.5
0
Egg 1
-0.25
+0.5
-0.25
0
0
Gherkin
+0.5
-0.25
0
-0.25
0
Gold Kart
+0.5
-0.25
+0.25
0
-0.5
Growlster
+0.5
-0.25
+0.25
-0.5
0
Koopa Clown
0
-0.25
0
+0.5
-0.25
Pipe Frame
-0.25
+0.25
-0.25
0
+0.25
Royal Ribbon
-0.5
+0.5
-0.25
+0.5
-0.25
Soda Jet
+0.25
+0.25
-0.25
0
-0.25
Tiny Tug
-0.5
0
+0.25
0
+0.25
Kart Wheels
Wheel
Speed
Acceleration
Weight
Handling
Off-Road
Standard
0
0
0
0
0
Gold
+1
-0.5
+0.5
-1.25
-2.5
Monster
+0.75
-0.75
+1
-1.25
+1.25
Mushroom
+0.25
-0.25
-0.5
+1.25
-1.25
Red Monster
+0.75
-0.5
+0.75
-1.25
+1.25
Roller
-0.75
+0.75
-1
+2
-1.25
Slick
+1
-0.25
+0.25
-1.25
-2.5
Slim
-0.25
+0.25
-0.25
+1.25
-1.25
Sponge
-0.25
+0.5
-0.75
0
0
Wooden
-0.5
+0.5
-0.5
+1.25
0
Kart Gliders
Glider
Speed
Acceleration
Weight
Handling
Off-Road
Super Glider
0
0
0
0
0
Flower Glider
0
+0.25
-0.25
0
0
Ghastly Glider
0
0
0
0
0
Gold Glider
0
0
0
0
0
Parafoil
0
+0.25
-0.25
0
0
Peach Parasol
0
+0.25
-0.25
0
0
Swoop
0
+0.25
-0.25
0
0
[edit]
Nintendo eShop Description
The newest installment of the fan-favorite Mario Kart™ franchise brings Mushroom Kingdom racing fun into glorious 3D. For the first time, drivers explore new competitive kart possibilities such as soaring through the skies or plunging into the depths of the sea. New courses, strategic new abilities and customizable karts bring the racing excitement to new heights
Related Threads
Mario Kart Wii :: Ultimate Guide
- last post by
@ May 22, 2008
Kotaku reviews Mario Kart Wii ... and are disappointed
- last post by
@ May 4, 2008
Kart and Bike Tier List Discussion
- last post by
@ Apr 18, 2008
Mario Kart Wii is a downgrade, soon all Pro's will be on DS
- last post by
@ Jul 27, 2008
Mario Kart Trivia
- last post by
@ Jul 28, 2008