Mario's Puzzle Party
Mario's Puzzle Party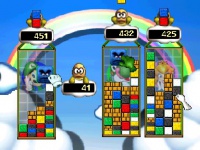 Mario's Puzzle Party as shown in Mario Party 3.
Mario's Puzzle Party is a 4 Player Minigame that appears in Mario Party 3. In this minigame, players have to break blocks by connecting 2 or more blocks of the same color. Thwomps will appear occasionally to squish all blocks beneath it, improving the chances of connecting the necessary blocks in order to break them. As you break blocks, you'll earn points. The first player to reach 100 points will win the minigame. In Minigame Mode, you can change the target score up to 1,000 points.
[edit]
Mario's Puzzle Party Pro
This is a Rare Minigame that is obtained once you beat Game Guy's Room. The concept of this minigame is similar to Mario's Puzzle Party except that it is a single player minigame and your goal is to obtain the most points in three minutes.
Mario's Puzzle Party Pro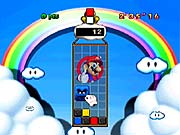 Mario playing Mario's Puzzle Party Pro.
[edit]
Controls
Control Stick - Move Cursor
A (or B) - Rotate Blocks
Z - Drop Blocks
Related Threads
Mario puzzle party
- last post by
@ Jan 20, 2008
Mario Party 5, the Official Picture Thread.
- last post by
@ Nov 6, 2003