Mallow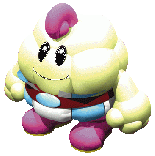 Mallow is a cloud-like creature with the power to control the weather. You first meet Mallow when he is being harassed by the crocodile thief, Croco. You find Mallow crying after having a special coin stolen from him by Croco, which is when Mario decides to aid Mallow in getting his coin back.
You eventually get the coin back by defeating Croco. Then the two adventurers meet Mallow's grandfather, Frogfucius. It is during this encounter with Frogfucius that Mallow learns that he, in actuality, is not a frog. One stormy night, Frogfucius found Mallow drifting down a river. Unsure of what to do, the old frog raised Mallow as his own. After learning this, Mallow decides to travel with Mario, hoping to discover his real parents and home.
[edit]
Appearances
Related Threads
Justice for Mallow and Geno!!!!
- last post @ Aug 21, 2016
Geno and Mallow
- last post by
@ Oct 18, 2004
are geno and mallow in this game?
- last post by
@ Oct 31, 2004