Mallet-Go-Round
Mallet-Go-Round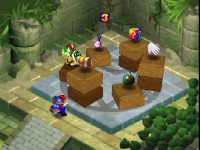 Mario playing Mallet-Go-Round.
Mallet-Go-Round is an Item Minigame appearing in Mario Party 2. This minigame is available on the Mystery Land board map. Each of the items are on two blocks and are spinning around like a merry-go-round. Players have to simply swing their hammer and break the two blocks of the item that they desire. The speed of the spinning blocks will increase as you knock them off.
[edit]
Controls
Last edited by
canderson
on 16 November 2011 at 17:30
This page has been accessed 235 times.