Magikruiser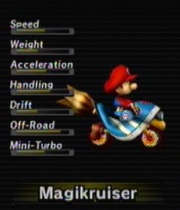 [edit]
Bike Bio
The Magikruiser is a lightweight bike. It resembles the Kamek magician from earlier Mario games.
[edit] How to unlock
Play on eight different courses in Time Trials mode.
The Magikruiser is the best off-road vehicle in Mario Kart Wii, it has average Speed, Accelerate, Drift, and Mini Turbo, but has a low weight, making it good for the Grand Prix mode, but is a dangerous bike tho use on courses with many ledges, like Rainbow Road, as you may get bumped off the course by one of the many heavier vehicles.