Lucky 7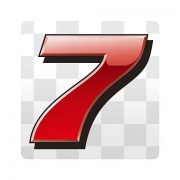 The Lucky 7 is a new item introduced in Mario Kart 7. It is a red number "7" that also represents the game's logo. When the item is used, seven random items will appear around the racer's kart. The racer will be able to use an item one by one when an item is in front of the player. The items can vary per racer, for example a player could obtain, Green Shells, Red Shells, Bananas, Mushrooms, Stars, Blooper, or Bob-ombs.
If an opponent gets to close to the racer with the items surrounding them, they will get hit by the circling items. If an opponent hits an Banana or Shell, then they will get hit. But if they hit the Star or Mushroom, then it will give the opponent the boost from those items.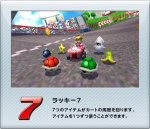 Related Threads
Most Lucky/Unlucky Moment
- last post by
@ Dec 3, 2005
the lucky 7 (paper mario and the thousand-year door)
- last post by
@ Apr 27, 2012
Lucky UKers. You can just go win the Mario Kart VW Convertable
- last post by
@ Mar 29, 2008
I'm lucky!
- last post by
@ Jan 29, 2006
Are You Lucky?
- last post by
@ May 3, 2005