Kart
Used to race in all Mario Kart games. Throughout the Mario Kart games, there are 50cc karts, 100cc karts, and 150cc karts, the higher the cc, the faster the kart will go and the choice of cc you make also affects the difficulty of the race.
[edit]
Mario Kart 7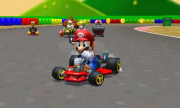 Their most recent appearance would be in Mario Kart 7 on the Nintendo 3DS. It would have some new additions to the game as they would be able to use gliders when a character is propelled in the air from a high place to help them glide, and when underwater, a propeller will appear on the back of the kart to help push the kart along. Players can customize their karts as well with some karts being seen from previous games.
The Standard Kart is the default kart body in the game as it offers no stat boosts, but players can change the wheels and gliders to control its stars. There would also be a Gold Kart that appears after collecting 20,000 coins, or by earning 10,000 VR in Wi-Fi races.
[edit]
Stat Boosts
Standard Kart

Speed: 0
Acceleration: 0
Weight: 0
Handling: 0
Off-Road: 0
Gold Kart

Speed: +0.5
Acceleration: -0.25
Weight: +0.25
Handling: 0
Off-Road: -0.5
Pipe Frame

Speed: -0.25
Acceleration: +0.25
Weight: -0.25
Handling: 0
Off-Road: +0.25
Related Threads
Mario Kart Wii :: Ultimate Guide
- last post by
@ May 22, 2008
Kotaku reviews Mario Kart Wii ... and are disappointed
- last post by
@ May 4, 2008
Kart and Bike Tier List Discussion
- last post by
@ Apr 18, 2008
Mario Kart Wii is a downgrade, soon all Pro's will be on DS
- last post by
@ Jul 27, 2008
Mario Kart Trivia
- last post by
@ Jul 28, 2008