Hotel Mario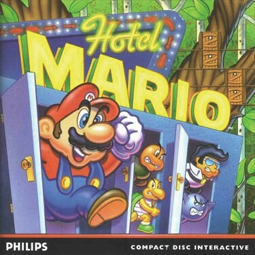 Hotel Mario was a PC game for computers in which Mario and Luigi receive a letter from Bowser saying Peach is a 'Permanent Guest' in his hotel. Mario goes through a set amount of hotels shutting doors, using elevators to get floor to floor. Shutting the doors doesn't really have a reason. After going through a set amount of different hotels, you will finally get to a hotel in which you face one fake Bowser and one real Bowser. The whole time the backdrop is a blazing hotel on fire.
After defeating Bowser, Mario and Luigi, with Peach being pulled behind them, get out of the hotel just in time for Bowser's hotel to come collapsing to the ground, probably crushing Bowser to crumbs.
Related Threads
Hotel in Koopa Level
- last post by
@ Apr 13, 2008
Delfino Hotel
- last post by
@ Feb 5, 2007
BIG BOME IN THE HOTEL HELP ME!
- last post by
@ Apr 16, 2007
Hotel, level three
- last post by
@ Aug 9, 2005
Mysterious Hotel Delfino
- last post @ Jan 7, 2014