Heart (item)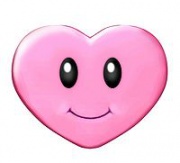 The Heart is an item that appears in Mario Kart: Double Dash!!. It is the special item for Princess Daisy and Princess Peach. When they use this item, two pink hearts will circle around the kart and protect them from up to two obstacles or weapons. Though Spiny Shells, Chain Chomps, and Bob-omb explosions will penetrate the barrier. Thunderbolt attacks and falling off the course will also destroy the hearts.
The Heart would return in Paper Mario and Paper Mario: The Thousand-Year Door. After defeating an enemy, Mario can pick up any hearts that may be dropped by the enemies.
1-Up Hearts appear in the Super Mario Land Series and give him an Extra Life.
Related Threads
best and worst special items
- last post by
@ Apr 22, 2006
Special Character Items
- last post by
@ Apr 5, 2008
Last edited by
Gotenks
on 25 March 2012 at 18:02
This page has been accessed 213 times.