Growing Up
Growing Up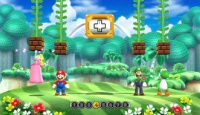 Growing Up as shown in Mario Party 9.
Growing Up is a Free-for-All Minigame that appears in Mario Party 9. There's a floating block in the middle of the screen. The objective is for players to press the button that appears on-screen in the floating block to grow their vine. The faster you press your vine, the higher your vine will grow. Players will press a total of eight buttons. Afterwards, players will climb their vine and the one with the highest growing vine wll win the minigame.
[edit]
Controls
Press the Control Pad, A, B, 1, or 2 once it appears on-screen.
Related Threads
Peach Graphic: Grows Hair TOO Fast?
- last post by
@ Jul 16, 2006
[Clan] GoD "everything grows with time"
- last post by
@ Aug 28, 2008
My time grows short.......
- last post by
@ Sep 18, 2001
Last edited by
canderson
on 19 April 2012 at 22:01
This page has been accessed 196 times.