Gelato Beach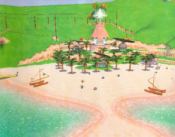 As the name implies, Gelato Beach is a beach. It is the third level in Super Mario Sunshine, not counting Delfino Plaza or Delfino Airstrip. Just off the beach is an island with a large swing, a coral reef, and a juice bar. On the beach there are lots of cataquacks, as well as a few landed boats. Further up the beach, there's a small hut, as well as plenty of trees, and a small treehouse. Even further up the beach there are three reflecting tables and a large pillar with the Sun Egg inside, and the Wiggler on top, which remain until their respective episodes are won. At the very back of the beach is a cliff which you can walk atop, with an amphitheater and tightropes. Like all other levels in the game, Gelato Beach has 30 blue coins, eight episodes, and eleven Shine Sprites.
[edit]
Episodes
[edit]
Bosses
In the third episode, Mario has to fight Wiggler, who's extremely angry about something. In episode five, Mario has to race Il Piantissimo down the beach up to the amphitheater to get his Shine Sprite. As with every other level in Super Mario Sunshine, Mario has to fight Shadow Mario in the seventh episode.
Related Threads
Rocket nozzle in Gelato Beach?
- last post by
@ Jan 11, 2008
How do u get yoshi in Gelato beach?
- last post @ Apr 14, 2012
Where is the coconut for Yoshi in Gelato Beach?
- last post by
@ Oct 27, 2006
Yoshi Egg in Gelato Beach
- last post by
@ Apr 6, 2006
-Where do you get Yoshi in Delfino Plaza and Gelato Beach?-
- last post by
@ Feb 18, 2003