Game Guy's Roulette
Game Guy's Roulette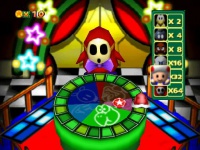 Game Guy's Roulette as shown in Mario Party 3.
Game Guy's Roulette is one of four Game Guy's luck-based Minigames that appears in Mario Party 3. Game Guy will spin a roulette and you have to choose which character space you think the Koopa shell will land on. The amount of coins you will depends on the space you land on.
The following Spaces:
If the Koopa Shell doesn't land on the space you selected, you will lose the minigame, as well as all of your coins.
[edit]
Controls
Control Stick - Choose Space
A - Select Space