Don't Look
Don't Look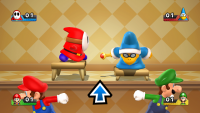 Don't Look as shown in Mario Party 9.
Don't Look is a Free-For-All Minigame that appears in Mario Party 9. Players have to watch the arrows that appear on screen, then quickly face a direction different from the direction the arrow is pointing. Players will do 10 rounds. Rounds 1 and 2 will consist of only 1 arrow. Rounds 3 - 6 will consist of 2 arrows. Finally, Rounds 7 - 10 will consist of 3 arrows. Also, each round will get faster than the preceding round, therefore, giving you less time to choose a direction. The players with the most points will win the minigame.
[edit]
Controls
Hold The Wii Remote vertically.
Wave the Wii Remote up, down, left, or right to control the direction your character is facing.
Related Threads
how does your emblem look like?
- last post by
@ Sep 29, 2007
this looks well good
- last post by
@ Jan 2, 2008
A Look At Items In Mario Golf: World Tour
- last post by
@ Apr 29, 2014
New Looks and Graphics Discussion
- last post by
@ Dec 19, 2002
Which Character Looks The Best? - Originator Mewtew41
- last post by
@ Oct 13, 2007
Last edited by
canderson
on 29 March 2012 at 12:12
This page has been accessed 229 times.