Deck Dry Bones
Deck Dry Bones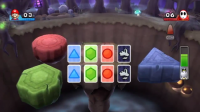 Deck Dry Bones as shown in Mario Party 9.
Deck Dry Bones is a Boss Minigame that appears in Mario Party 9. When the cards are turned over, players must carefully watch the cards before they are flipped face down. Players must then choose the card with the image that corresponds to the platform Dry Bones is standing on. If chosen correctly, players will deal damage to Dry Bones, earning three points. Occasionally, some of the cards will have an image of Dry Bones and if that's selected, Dry Bones will attack that player, causing him/her to lose one point. The minigame starts off with two platforms to choose from, then increase to three after the first round, and finally four platforms after a couple of more rounds.
When Dry Bones life bar reaches its midpoint, he will make the minigame difficult by mixing up one column of cards after the cards are flipped face down, possibly moving the card you memorized. The player with the most points will win the Minigame and obtain the most Mini Stars.
[edit]
Controls
Hold The Wii Remote vertically.
Point the Wii Remote at the card you want to select and press A to confirm.
Related Threads
Black Dry Bones
- last post by
@ Oct 22, 2005
Member Survivor: Team Dry Bones
- last post by
@ May 4, 2008
Dry Bones!
- last post by
@ Oct 17, 2007
Dry Bones and that pink yoshi?
- last post by
@ Feb 3, 2006
[Character Discussion] Dry Bones
- last post by
@ Sep 14, 2008
Last edited by
canderson
on 28 April 2012 at 10:19
This page has been accessed 214 times.