DK Jungle (Mario Tennis Open)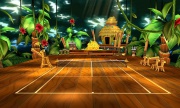 DK Jungle is one of the courts found in Mario Tennis Open, It is a court that takes place on the canopy of the dense Jungle Japes and would be a wood court with a big pile of bananas seen in the north part of the court. There is a toucan that is perched on the referee's throne(where Toad sits) and numerous other Toads will be spectators on the sidelines. The music for this court would be a remixed version of the Jungle Hijinxs from Donkey Kong Country.
[edit]
Court Stats:
Ball Speed: Normal
Bounce: Normal
Last edited by
Gotenks
on 19 June 2012 at 22:42
This page has been accessed 201 times.