Club Nintendo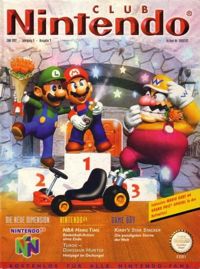 [edit]
Club Nintendo
[edit]
General Info
Club Nintendo refers to various things, including a magazine, a Nintendo Rewards program, and the magazines comics.
[edit]
Magazine
Club Nintendo was an official magazine newsletter (Much like Nintendo Power.) sent out monthly in Germany. It later expanded to Austria, and Switzerland, as well. Club Nintendo started out small having only a few pages an issue, it later grew much more long having an issue in 2000 that had around 80 pages. In 2001 Nintendo of Europe stopped making the magazine newsletter, instead a German publishing company named Computec Media, took over publishing the magazine, which was later cancelled in April, 2002. A magazine with the name Club Nintendo is still being published in Mexico.
[edit]
Comics History
While Club Nintendo was being published, a special section of the magazine contained Nintendo comics. Various Mario characters appeared in the comics, along with other Nintendo characters. Most of the comics were drawn by Mangaka, a manga artist. In later years the comics were renamed the N-Gang, while sometimes Nintendo characters appeared, the comic's main characters were not of Nintendo's. The comics were then cancelled when Computec Media started publishing Club Nintendo.
[edit]
Rewards Program
The online rewards program called Club Nintendo, is a registered users only rewards program. To receive any rewards as a member you must register your games, and systems, online and take surveys about them, the member then receive coins, and can get various rewards. Members of the Club Nintendo rewards program can also enter special sweepstakes, and receive a newsletter.
Related Threads
Club Nintendo PIN
- last post @ Jun 1, 2014
Super Mario RPG Club
- last post by
@ Jan 14, 2005
nintendo club FREE pin for athougher pin
- last post by
@ Jan 31, 2015