Cannonball Fun
Cannonball Fun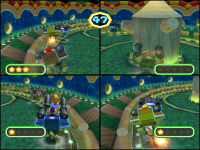 Cannonball Fun as shown in Mario Party 6.
Cannonball Fun is a 4 Player Minigame that appears in Mario Party 6. Players are in their own hovership and must shoot cannonballs towards each other. The left and right cannons will shoot alternatively. Each hit is worth one point. The first player to obtain five points will win the minigame.
[edit]
Controls
Control Stick - Move
A - Shoot the cannonball.
L - Tilt left.
R - Tilt right.