Brick Block
Brick Block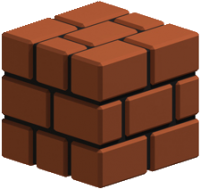 The Brick Block is a type of block that has appeared in most Mario platform games. It is made up of bricks and would first appear in Super Mario Bros.. In all platform games, Mario or Luigi can only break the brick block as Super Mario(or Super Luigi) or another form of Super Mario. The Brick Block can be shattered from being it from underneath. If it is Small Mario hitting the block, it will only bounce slightly. If an enemy is on the Brick Block, they can be injured by Mario or Luigi hitting the block. Brick Blocks also contain items and once the item has been released, the block turns into a Used Block.
Brick Blocks will usually contain:
Top Ramen (Super Mario Bros.: Peach-hime Kyushutsu Dai Sakusen!)
They would appear again in Super Mario Sunshine and would be filled with sand. In New Super Mario Bros. and New Super Mario Bros. Wii, Brick Blocks could be broken by the use of a Ground Pound.
They would appear in Super Mario Galaxy and many other Mario games, such as the Paper Mario games.
It would appear in the event Dream Snowball Fight in Mario & Sonic at the Olympic Winter Games as walls to guard characters from opponents' snowballs.
They would return in Super Mario 3D Land and set to appear in New Super Mario Bros. 2.