Bowser Slots
Bowser Slots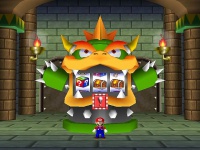 Mario playing Bowser Slots.
Bowser Slots is an Item Minigame appearing in Mario Party 2. This minigame is available on the Bowser Land board map. There is a Bowser Slot Machine behind the player and in order to obtain an item, the player must match all 3 pictures on the reel. If successful, the item will appear out of the slot machine. If you mismatch a picture on the reel, you will fail the minigame.
[edit]
Controls
Related Threads
NA Tournament (14 slots remaining)
- last post by
@ Aug 30, 2007
Last edited by
canderson
on 16 November 2011 at 16:42
This page has been accessed 319 times.