Bowser In the Fire Sea
This is for the N64 Version. If you're looking for the DS version, try here!
Bowser in the Fire Sea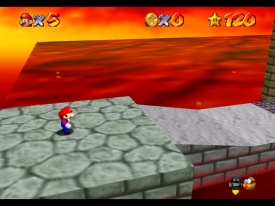 Beginning of the course
Bowser In The Fire Sea is the second Bowser level in Super Mario 64. The level is made up of mostly lava, concrete and mesh platforms that are above the lake of lava. Enemies in this level mainly consist of Bullies and [[Goombas].
Like the previous Bowser level, Mario doesn't need to go through a painting. Instead Mario will need to obtain the first Power Star from Dire Dire Docks. The blue portal to the water level will be in front of the entrance to Bowser in the Fire Sea. When the first Power Star in Dire Dire Docks is collected, the blue portal will move away and you can enter the level.
Fighting Bowser is similar to Bowser in the Dark World. When Bowser gets thrown off the edge and hits land or when Mario meets him, the platform will begin to tilt, slow down and then go back to normal. He can also warp to other parts of the stage to attack Mario. It only takes one shot to defeat Bowser in this level.
There is only one star in the level, much like Bowser In The Dark World. 8 Red Coins need to be collected.
Related Threads
fire bowser castle!!
- last post by
@ Jul 18, 2005