Bowser In the Dark World
This is for the N64 Version. If you're looking for the DS version, try here!
Bowser in the Dark World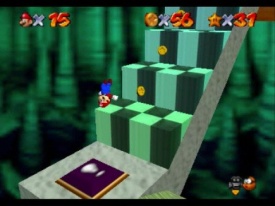 Stairs before fighting Bowser
Bowser in the Dark World is the first Bowser level of Super Mario 64. This course is puzzle-like with many trips, as well as enemies. To find this level, Mario will need to go up the central staircase and to his left. Mario will need 8 Power Stars to access this room. Mario won't need to go through the painting as the trap door will take you to the start of the level.
The boss of the level is the King of Koopas himself, Bowser. When fighting Bowser, Mario will have to grab his tail and twirl him around to build up speed, before throwing him into a mine. Once doing so, Bowser will admit defeat and disappear, leaving Mario with the key to the basement of the Castle.
There is only One Power Star to collect in this level and it is collecting the 8 Red Coins. The Red Coins can be found:
Two are reached by pressing a switch. Both near the beginning.
One is on the path near with the Amps.
One is near the square platforms.
One is in the circular platform that can be reached with a long jump.
Two are where the tilting platforms are.
Once all 8 Red Coins are collected. the Power Star will appear close to the Warp Pipe.
Related Threads
HELP with final Boss - Dark Bowser/Dark Fawful
- last post @ Apr 1, 2018
world 8 bowser
- last post by
@ Aug 28, 2006
Bowser in the dark world key
- last post @ Mar 6, 2007
bowser in the dark world help
- last post by
@ Jul 26, 2005
how do i kill big bowser in world 5-8
- last post @ Apr 7, 2007