Bowser Castle 4
Bowser Castle 4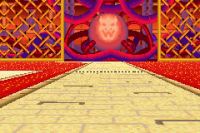 The Bowser Castle 4 course
Bowser Castle 4 is a Bowser's Castle course in Mario Kart: Super Circuit. It is set over a lake of lava located inside Bowser's Castle. The course consists of jumps, and several curves. The drivers must avoid Thwomps and some Mechakoopas at the end of each lap.
Related Threads
Weekly Time Trials Competition - The Golden Age [Current - Bowser Castle]
- last post by
@ Sep 2, 2009
bowsers castle
- last post by
@ Feb 19, 2005
how do you get to the side door of bowser castle
- last post by
@ Aug 26, 2012
need help in bowsers castle plz help me!
- last post by
@ Aug 3, 2002
Please help on leg outpost in bowsers castle
- last post by
@ Jul 4, 2011