Bowser Castle 2
Bowser Castle 2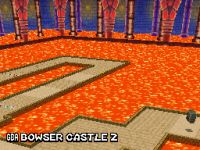 The Bowser Castle 2 course as it appears in Mario Kart DS
Bowser Castle 2 is a Mario Kart track first made for Super Mario Kart. It was later remade for Mario Kart: Super Circuit, and again for Mario Kart DS as a retro course. The race on the course takes place inside Bowser's Castle on top of a lake of lava. In the background you can see the walls of Bowser's Castle along with statues of him. The course it's self consists of a relatively simple design with many curves and some Thwomps to avoid. It also features areas where drivers must jump over areas of lava under the track. The course is laid out the same in all three games.
Related Threads
Weekly Time Trials Competition - The Golden Age [Current - Bowser Castle]
- last post by
@ Sep 2, 2009
bowsers castle
- last post by
@ Feb 19, 2005
how do you get to the side door of bowser castle
- last post by
@ Aug 26, 2012
need help in bowsers castle plz help me!
- last post by
@ Aug 3, 2002
Please help on leg outpost in bowsers castle
- last post by
@ Jul 4, 2011