Bowser Castle 1
Bowser Castle 1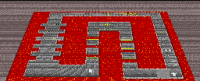 Bowser Castle 1 as the track appears in Super Mario Kart
Bowser Castle 1 is a course from Super Mario Kart and Mario Kart: Super Circuit, which the snes version was the first bowser castle course and later was in the first retro cup of the gba. gba bowser castle 1 has a similar course but looks different.
It would return in Mario Kart 7 as the second race for the Shell Cup. It would be the only GBA retro course in Mario Kart 7 and the only changes made to the game are stone pillars that appear from the lava. As well as coins are added to the track.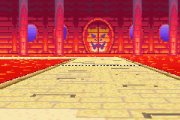 Related Threads
Weekly Time Trials Competition - The Golden Age [Current - Bowser Castle]
- last post by
@ Sep 2, 2009
bowsers castle
- last post by
@ Feb 19, 2005
how do you get to the side door of bowser castle
- last post by
@ Aug 26, 2012
need help in bowsers castle plz help me!
- last post by
@ Aug 3, 2002
Please help on leg outpost in bowsers castle
- last post by
@ Jul 4, 2011