Battle Course 1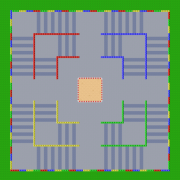 Battle Course 1 is one of the first battle courses encountered in Mario Kart: Super Circuit. It takes on the shape of a square, with walls and sand in the middle of it. It would later appear in Mario Kart 7 as one of the retro battle courses. Rocky Wrenches would be added into this course and a small ramp in the center would be included as well.
Related Threads
Favorite battle course
- last post by
@ Oct 13, 2007
Create your own battle course!
- last post by
@ Sep 27, 2012
Battle mode courses???
- last post by
@ Apr 17, 2008
Last edited by
Gotenks
on 26 December 2011 at 21:53
This page has been accessed 222 times.