Ballistic Beach
Ballistic Beach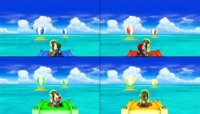 Ballistic Beach as shown in Mario Party 9.
Ballistic Beach is a Free-for-All Minigame that appears in Mario Party 9. Players must aim their cannon and blast every target on the different islands. The first player to hit all of the targets will win the minigame.
In Time Attack Mode, the Bonus Objective is to blast all of the targets using no more than 10 shots.
[edit]
Controls
Hold The Wii Remote horizontally.
Use the Control Pad to aim the cannon.
Press 2 to shoot.
Last edited by
canderson
on 9 November 2012 at 17:31
This page has been accessed 73 times.