Piranha Plant Pipeway
(Redirected from 3DS Piranha Plant Pipeway)
Piranha Plant Pipeway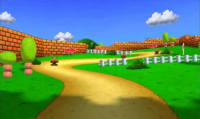 Piranha Plant Pipeway from Mario Kart 7
Piranha Plant Pipeway (or Piranha Plant Slide in North America) is the opening course of the Star Cup in Mario Kart 7. It starts out with racers speeding into the mouth of a large Warp Pipe underground drainage system. The first area of the track consists of players racing down a large drainage area with flowing water. A large Piranha Plant is encountered here who will bite at racers who get to close. The racers follow the drainage area until they come to a large underwater area of the course which leads back out into the open at ground level. Another large Piranha Plant is under the water here blacking the exit ramp where players can use their gliders to escape the tunnels. Once back out in the open racers will be on a dirt road with two sharp curves, there is also a short cut here. After this another lap will start or it will be the end of the race.
This course will return as a Retro Track in Mario Kart 8 for Wii U.
Related Threads
Lazer piranha plant:
- last post by
@ Jul 18, 2014
Mario Maker levels can be shared online, Piranha Plant death traps from across the globe
- last post by
@ Sep 3, 2014
Last edited by
piplup17
on 31 July 2017 at 17:16
This page has been accessed 2,305 times.