10 To Win
10 To Win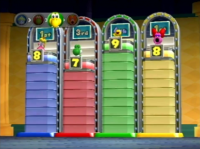 10 To Win as shown in Mario Party 9.
10 To Win is a Free-For-All Minigame that appears in Mario Party 9. Players are on a rising platform and must choose a card on the screen, all of them being face down. Each card can increase and rise the platforms of: the player who has drew the card, the first place player, the last place player, the opponents of the person who drew the card, and everyone. The highest value of the card players can possibly obtain is three. The objective is to obtain ten points. The first player to reach ten points will win the minigame.
[edit]
Controls
Hold The Wii Remote vertically.
Point the Wii Remote at the card you want to flip over and press A to select.
[edit]
Gallery
Related Threads
P-A-P-E-R_M-A-R-I-O'S_J-E-A-P-O-R-D-Y ---> Winning player: tomato13187 at 1,600 points!
- last post by
@ Jan 31, 2005
I need help winning SHY GUY?????
- last post by
@ Aug 18, 2002
Favorites and least favorites winning and losing animations and away movies.
- last post by
@ Dec 11, 2007
First Win Teheheheheh
- last post by
@ Aug 7, 2007
Wi-Fi Winning Percentages!
- last post by
@ May 27, 2006
Last edited by
canderson
on 28 April 2012 at 11:20
This page has been accessed 141 times.