1-Up Mushroom Cup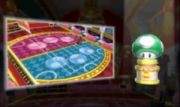 The 1-Up Mushroom Cup is the first cup for the Star Open tournament series in Mario Tennis Open. It is the counterpart for the Mushroom Cup of the game and can only be unlocked after the Champions Cup has been completed. In the Star Open tournament series, only Star rank characters are able to compete in it. Any character that does not have the Star Rank, is not allowed to compete in this tournament series. The computer player's difficulty will be harder than any of the previous cups though considered the easiest in the Star Open tournament series because every character will have a star rank.
For this cup, the players will compete on the Peach's Palace court.
Related Threads
Mushroom cup - 150Gp (Video)
- last post by
@ Jan 5, 2009
Last edited by
Gotenks
on 31 May 2012 at 23:39
This page has been accessed 348 times.