O-Zone
O-Zone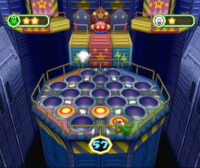 O-Zone as shown in Mario Party 6.
O-Zone is a Duel Minigame that appears in Mario Party 6. Players are in an arena and must ground pound the stage panels to reveal circles. The circles are revealed briefly in the beginning, but the arena spins and the circles get covered once agin. Revealing an 'X' will cause lighting to strike down, leaving the player momentarily stunned. The first player to reveal three circles will win the minigame.
Controls
Control Stick - Move
A - Jump, Press A in the air to Ground Pound.
Related Threads
Need Help in the SPECIAL ZONE
- last post @ Jan 22, 2010
Favorite Zone
- last post by
@ Aug 3, 2010
Mario Strikers Charged Zone
- last post @ Sep 13, 2013
Construction Zone
- last post by
@ May 30, 2007
Twilight Zone: The Movie (1983)
- last post by
@ Jun 2, 2017
Last edited by
canderson
on 1 July 2013 at 14:11
This page has been accessed 204 times.